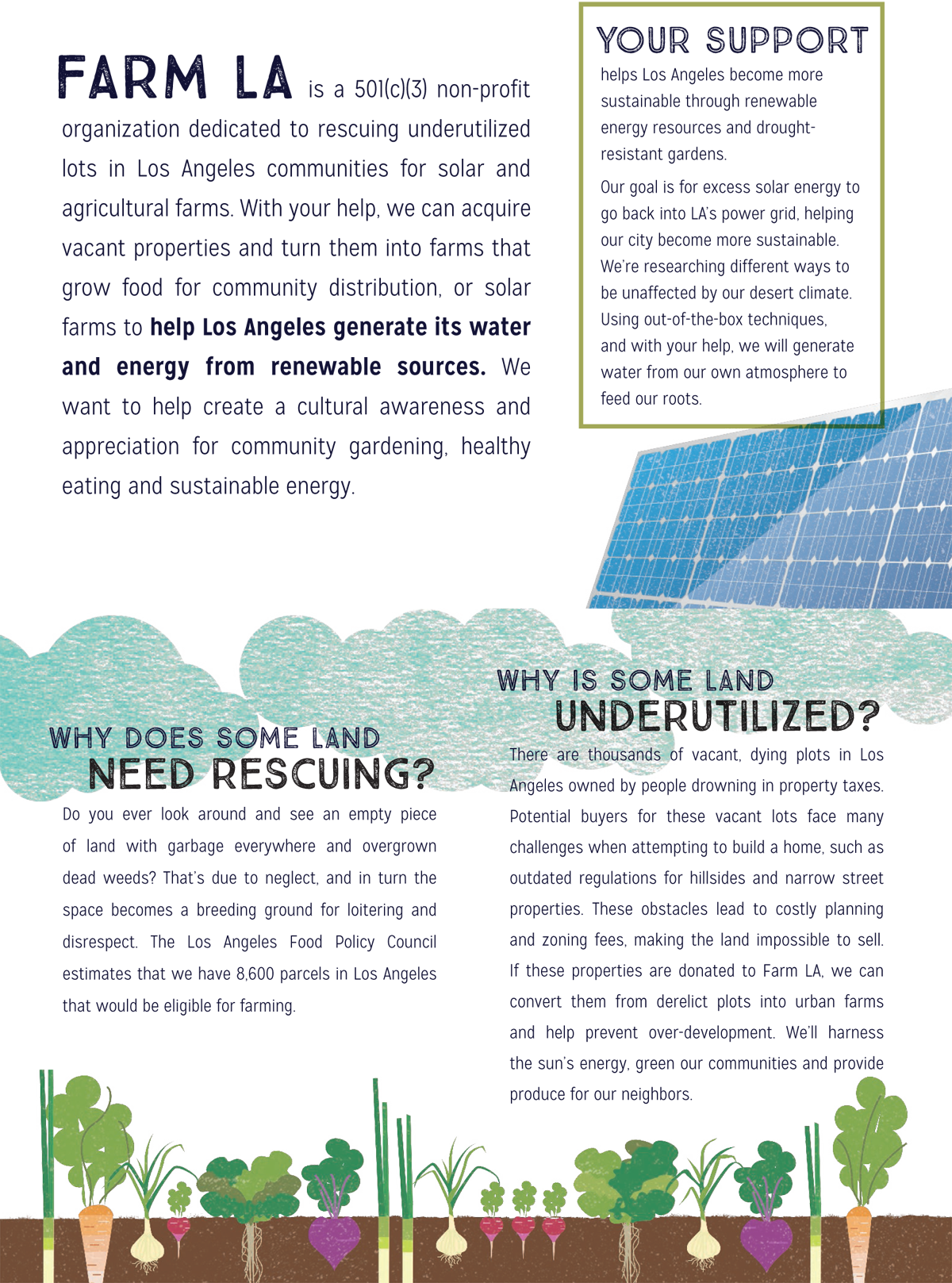 Farm LA was started by Jason Wood and Emily Gleicher. They're a
local couple who have a passion for gardening and sustainable
living. They are certified (UC) Victory Gardeners.
Jason and Emily want to do something about the abundance of
underutilized land in Los Angeles. They want to repurpose this land
and turn it into land that can give back to those in need,
beautify the city and grow our future.
That's why they started Farm LA.
In January 2018 we were asked if we wanted to grow food on a vacant piece land in Elysian Valley, Los Angeles owned by 75 year resident Robert Berg and his wife Janet Workman. Here we get together with our volunteers to maintain the farm we've named "Berg's Farm LA". We currently grow lima beans there, then (with our volunteers) we harvest and package them in a "donation kit" which includes 1 cup of dried lima beans (they triple in size to 3 cups once soaked overnight) and a cookbooklet with English and Spanish directions how to cook and grow with them! We donate these kits to Angelenos in need via assorted groups like: our local Elysian Valley Senior Citizens Club, Los Angeles Community Action Network, Seeds of Hope via Food Forward, LARCEE.org, NELA Mercadito as well as our local fruit shares! We've donated 500 kits since we started at Berg's Farm!!! Please click "Subscribe" to learn when our next volunteer day is and to be in the know on all things Farm LA :)!!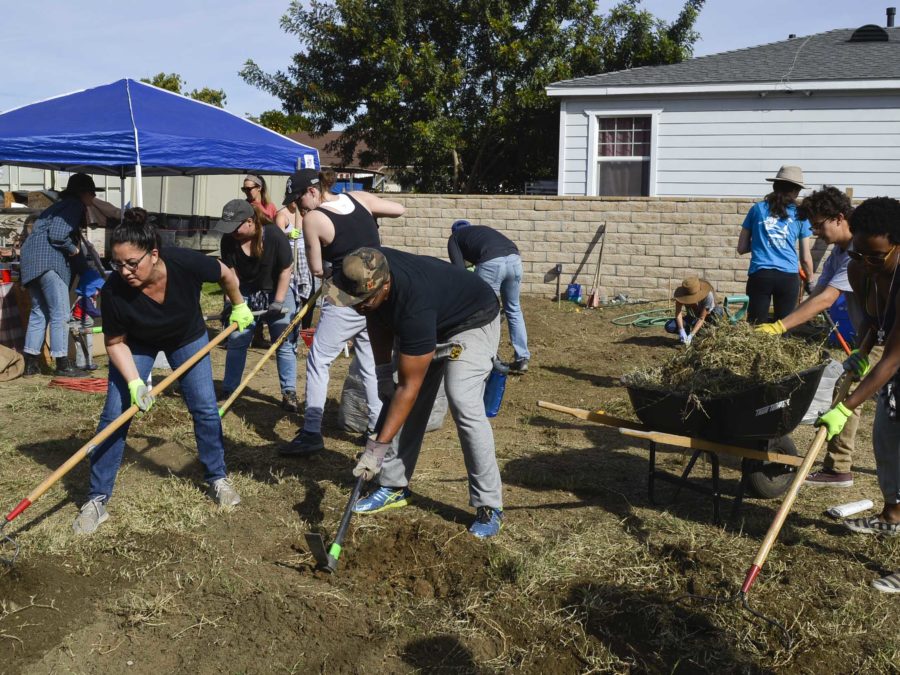 We started Farm LA creating public mini-farms on sidewalks
around Los Angeles, particularly in neighborhoods that are considered
food deserts (meaning they don't have a walkable affordable organic
market nearby). We have implemented over 10 mini-farms in LA city
and look forward to showing neighbors how to create their
own on a shoe-string budget.
Farmers markets & health fairs
We love Markets & Health Fairs! There is no better way to meet
like-minded people. We have tabled numerous Farmers Markets and Health
Fairs to share our lima beans and promote healthy eating and drought-tolerant
agriculture.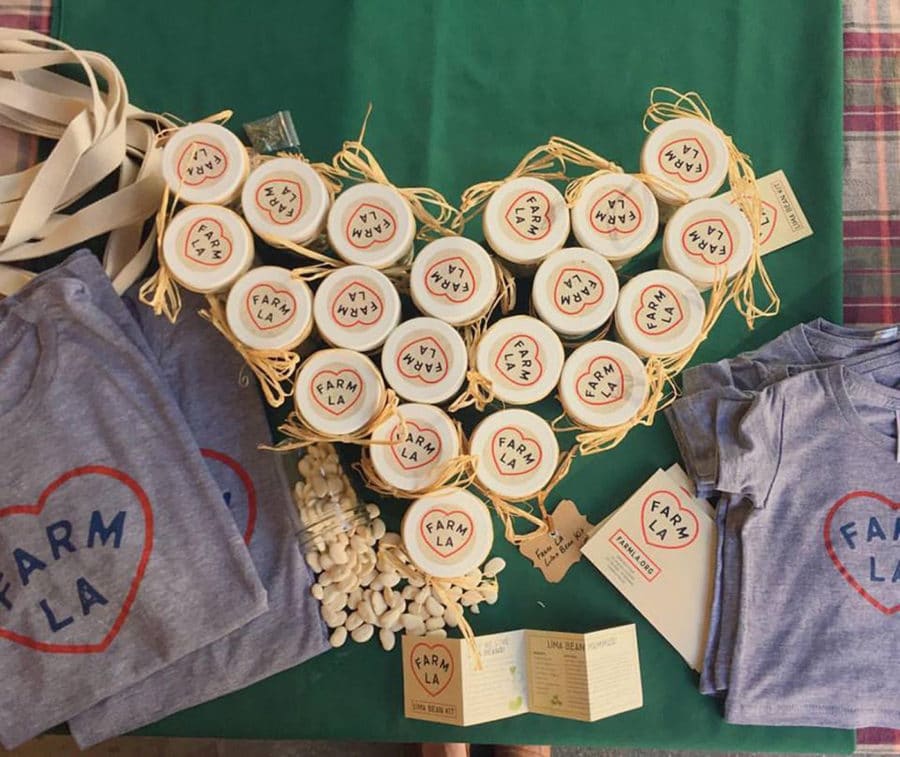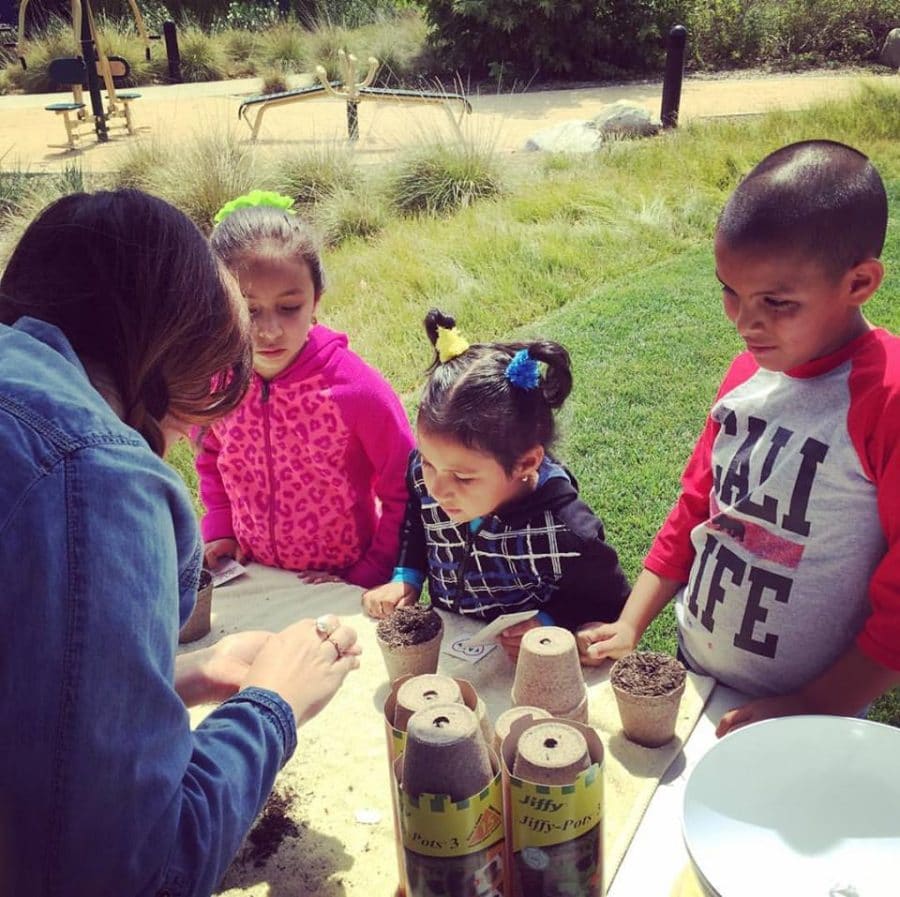 We've been working with schools in Los Angeles to help them
maintain their school gardens and are hosting growing food 101 classes.
We believe it's so important to learn these basics
at an early age.
Our HQ is one big
drought-tolerant agricultural farm! We had LA County Agricultural
Weights & Measures come and certify our Lima Beans and herbs.
We harvest them and make our Lima Bean Kits with them!
Click here to purchase them.
We've collaborated with LA Food Policy Council with other urban farmers in an
Urban Agriculture Working Group. This group focuses on the policy of Urban
Ag in LA. We've helped to popularize a new Incentive Zone Act,
which encourages Angelenos to convert their parcels into urban gardens
& farms in exchange for reduced property taxes, which will hopefully
create a domino effect for folks growing food on their vacant lots.
To see more about what we're up to-
please visit our social media pages.
Your support will help Farm LA utilize land in Los Angeles
for solar and drought-tolerant agricultural farming.
You'll help educate, beautify and provide!
Farm LA is a 501(c)3 Non-Profit Organization.
All donations are tax deductible.
Please note our Tax ID# for your records: 47-3050128
To give by mail, please make your check payable/send to:
Farm LA
2634 Rich Street
Los Angeles, CA 90039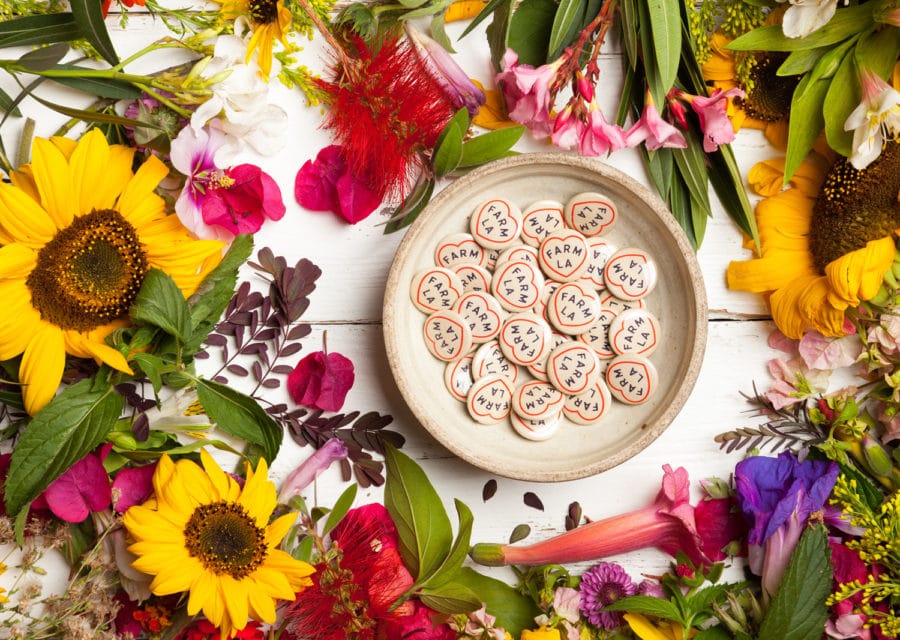 $30
Farm LA Kids T-shirts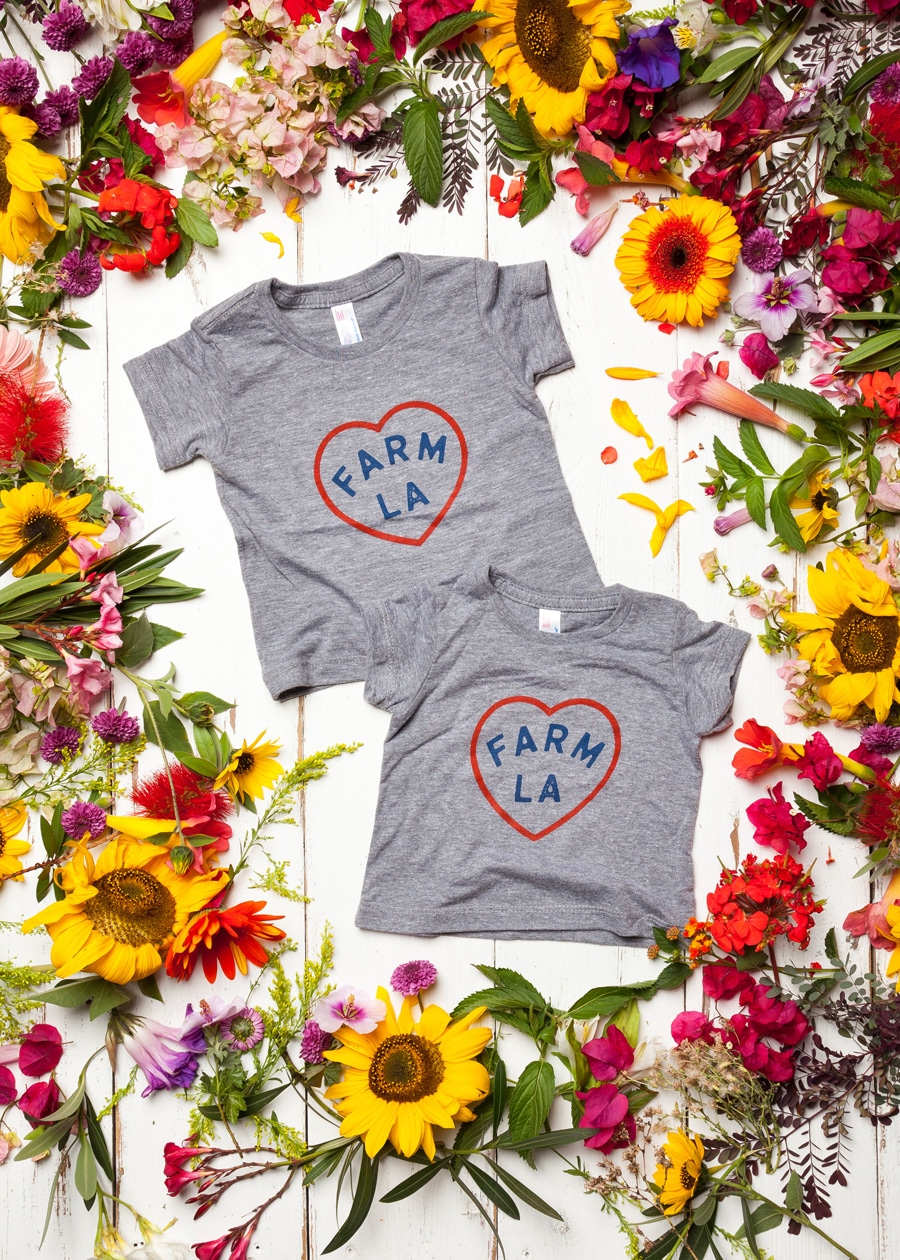 $40
Farm LA adult T-shirts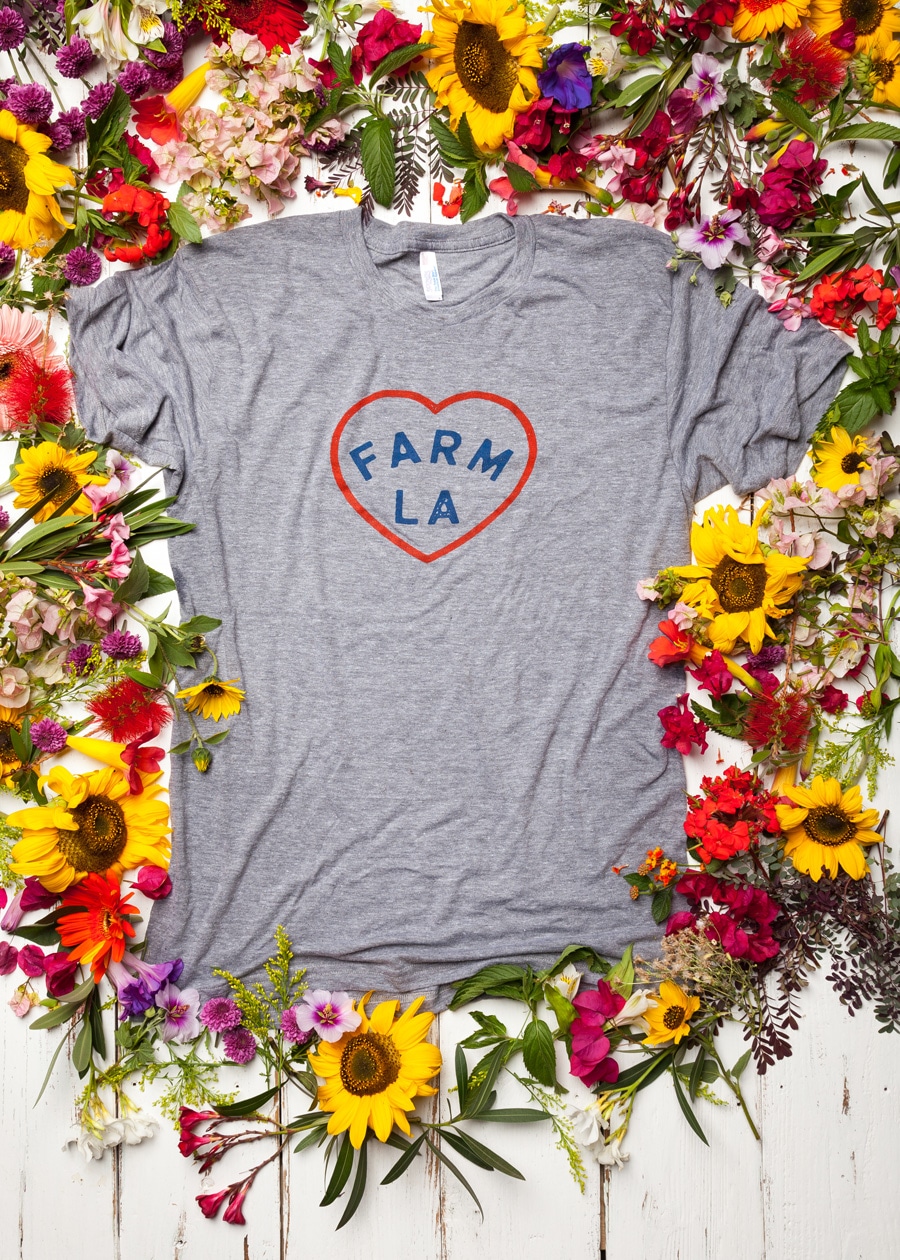 $25
Farm LA CANVAS tote bags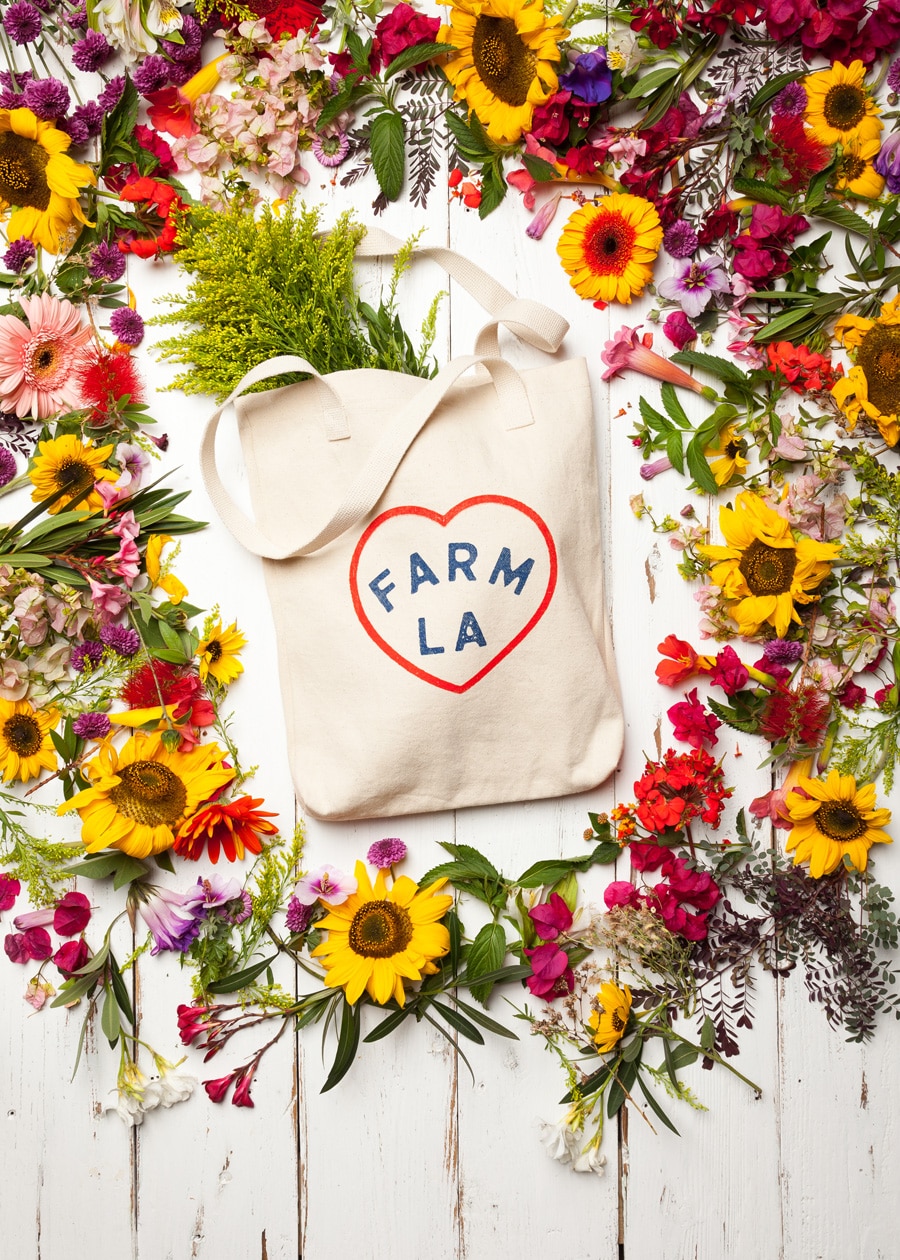 Nursery Specials
EMAIL HELP@FARMLA.ORG TO MAKE AN APPOINTMENT AND inquire about PRICING AND INVENTORY ($20-$200)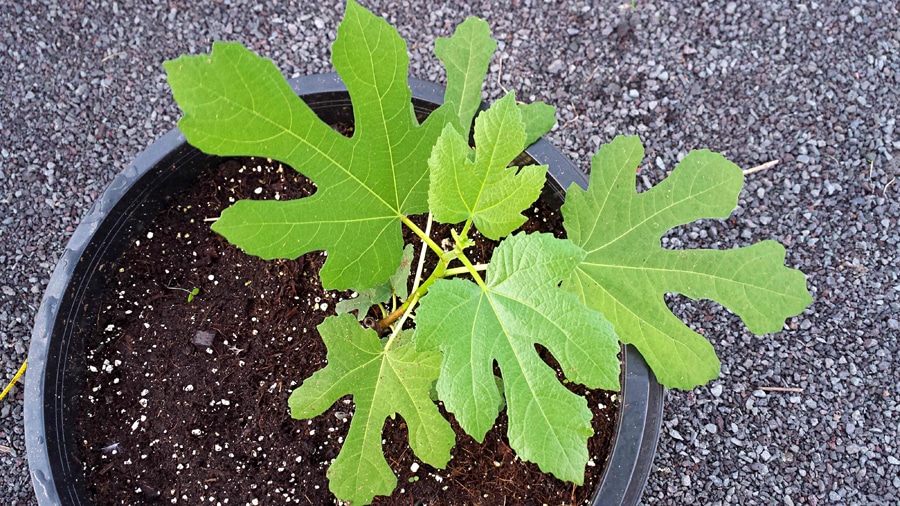 $250
notable contributor status
LISTED ON FARMLA.ORG AS A
NOTABLE CONTRIBUTOR.
GET YOUR OWN FARM LA WOODEN SIGN FOR YOUR SIDEWALK AND
GET AN IN PERSON TUTORIAL
ON HOW TO CONVERT YOUR OWN SIDEWALK MINIFARM.
HELPING TO SHOWCASE HEALTHY FOOD ACCESS IN LOS ANGELES!

$500 +Plus

MAJOR CONTRIBUTOR STATUS
LISTED ON FARMLA.ORG AS A
MAJOR CONTRIBUTOR.
MAJOR CONTRIBUTOR REWARDS DEPEND ON PROPERTY AND OR
MONETARY CONTRIBUTION. REWARDS CAN RANGE FROM HAVING FARMS
NAMED IN THEIR HONOR AND OR HOME GARDEN
DEVELOPMENT.
OTHER AMOUNTS GRACIOUSLY ACCEPTED!!

(THANK YOU!!!)
Join OUR DONORS and help PROVIDE
FOOD ACCESS TO ANGELENOS IN NEED!
DONORS
as of September 2021
The Madeksho Law Firm *Major Contributor*
Victoria Gleicher *Major Contributor*
Golden Road Brewing *Major Contributor*
Bob Berg & Janet Workman *Major Contributors* x 3
LA2050 Listens/Riverwild *Major Contributor*
The Left Bank *Major Contributor*
Gentleman Scholar *Major Contributor*
The Awesome Foundation *Major Contributor*
Whole Foods Market (Glendale, CA) *Major Contributor*
Rugged & Dapper *Major Contributor*
Sharre Jacoby *Major Contributor*
Tyler Hakes and Optimist *Major Contributor*
Bridgette Spalding *Major Contributor*
Weingarten Family Fund/Whittier Trust Co *Major Contributor*
Joe Agency *Major Contributor*
Whole Cities Foundation *Major Contributor*
The Bend: Community Benefits Fund *Major Contributor*
Splits 59 *Notable Contributor*
Christoph Bull *Notable Contributor*
Prateek Agarwal *Notable Contributor*
Camp Helping Hands *Notable Contributor*
Olga & Fred Hauptmann *Notable Contributor*
Rancho Meladuco Date Farm *Notable Contributor*
Amy Jacovec
Eileen Unger
Alex Kamer
Damien Robledo
Julia Parnell
Jason Binns
Home Depot
Starbucks
Cameron Woodward
Steve Gruber
Janine & Ryan Labaqui
Whole Foods Fairfax
Adam Matthews
La Croix
Marvin & Reva Mallon
CVS
Ziva Manczyk
Christine, William & Moses Mills
Agnes Constante
Martina Kohl
Isvinder Grewal
Stephanie Gangi
Sprouts Farmers Market
Kaitlin Cassidy
Leslie Stokoe
Vivion Inc.
Aerialla Astrupgaard
Theresa Lee
Shenan Sarkovich
The Murphy Family
Waxpaper
Leslie Grow
Amanda Kretzmann
Laurie Bailey
Meg Cassidy
Caron Eule
Elizabeth Kroll
Kerry Lane
Ryan Lagasse
Jill Hoskins
William Kidd
Amy Chow
Michelle Wolfe
Latoya Hawthorne
Troy Barbu
Patricia Thomas
Austen Holman
Tara-Rose Lawrence
Daniel Lim
Danielle Evenson
Suzanne Gross
Parise Vautour
Jesse White
Elisa Whitehead
Jenna Aldridge
Nick Sasso
Martha & Wesley Scott
Irene E. Manning
Diandra Wood
Keely Luna
Ascending Lights
Bobbi Wood
Steve Tozzi
Tova Kaplan
Jared Goldstein
Anna Castillo
Laura Estrada
Elizabeth Bowman
Ronna Ballister
Lara Willorna
Danielle Laubach
Lisa Hancock
Susan Masback
Lauren Skillen
The Lambo Family
Buffalo Exchange
Danielle Foss
Anne Deutsch
David & Veronica De La Torre
Amazon Smile
Paypal Giving Fund
Ben Lustgarten
Universal Studios via Susan Huckle
Jayna Steffens
Mike Baldi via Shirley Gonzales
Natalie Groce & Robert Jackman via Ghost & Stars
Zara Negron
Dyanne Stempel
Charlie Weinmann
Anne Edgar
Xeneb Shah
Marianna Babboni
David Ou
An Tran
Dilpreet Sidhu
The Lucky Pig Vintage Shop
The Cash Family
Natalie Groce & Robert Jackman
Lila Scott
Julia DeSantis via the DeSantis Charitable Gift Fund
Lila Scott
Public Market Goods
Jaelynn Hinton
Tova Kaplan
Nicole Sciarrillo
Graze Los Angeles
Sarah Rothberg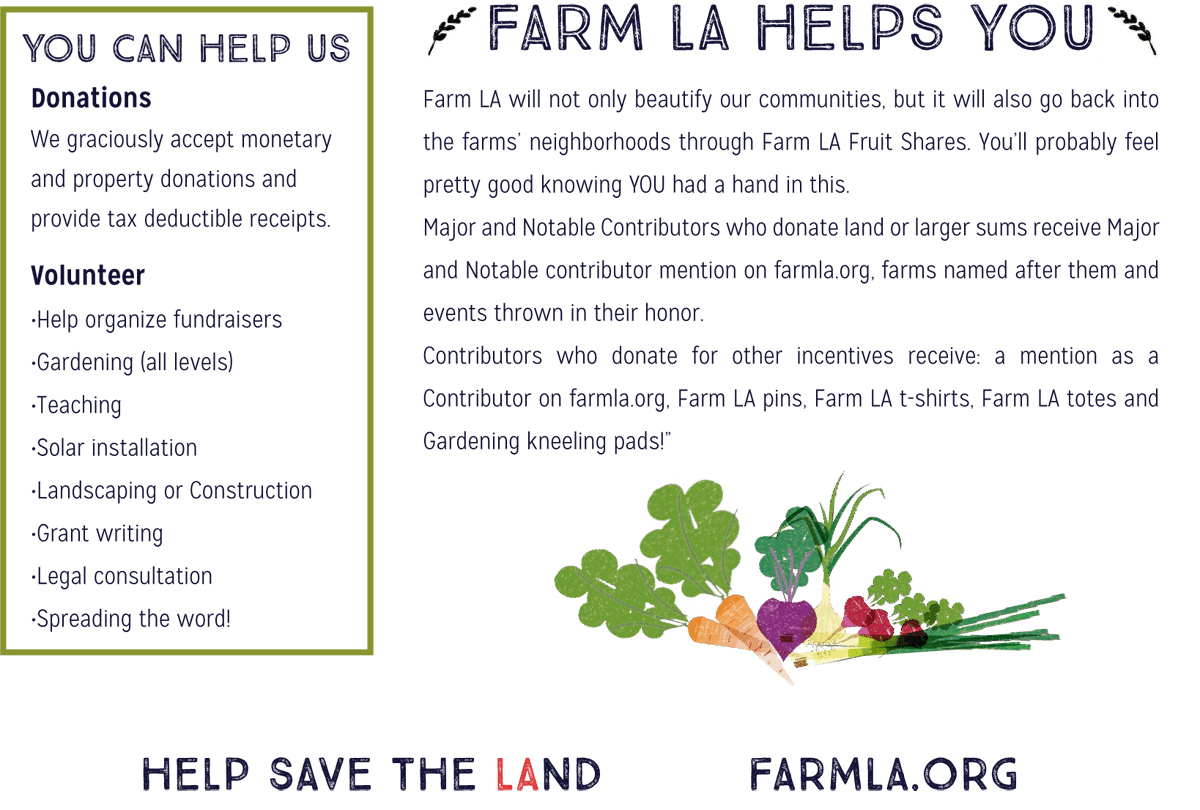 Join them and help create a
better future for Los Angeles!
Hello! Welcome! So exciting that you want to volunteer with us! Below are two ways to do so: "Sign up for the newsletter" this will keep you in the know when there are GROUP volunteer days to sign up for. "Request to sign up at the farm on your own" this will bring you to a calendar to choose from available days where you on your own or with a friend(s) can come to the farm and focus on a small patch or help in any way we need (which is usually a lot of de-weeding 🙂 ) Thank you so much for your interest!! Please email with any questions: help@farmla.org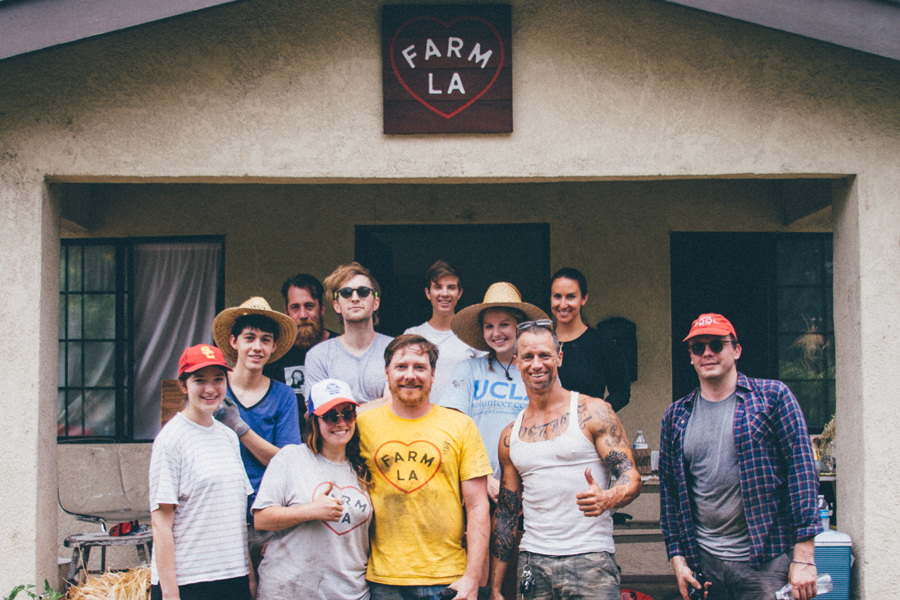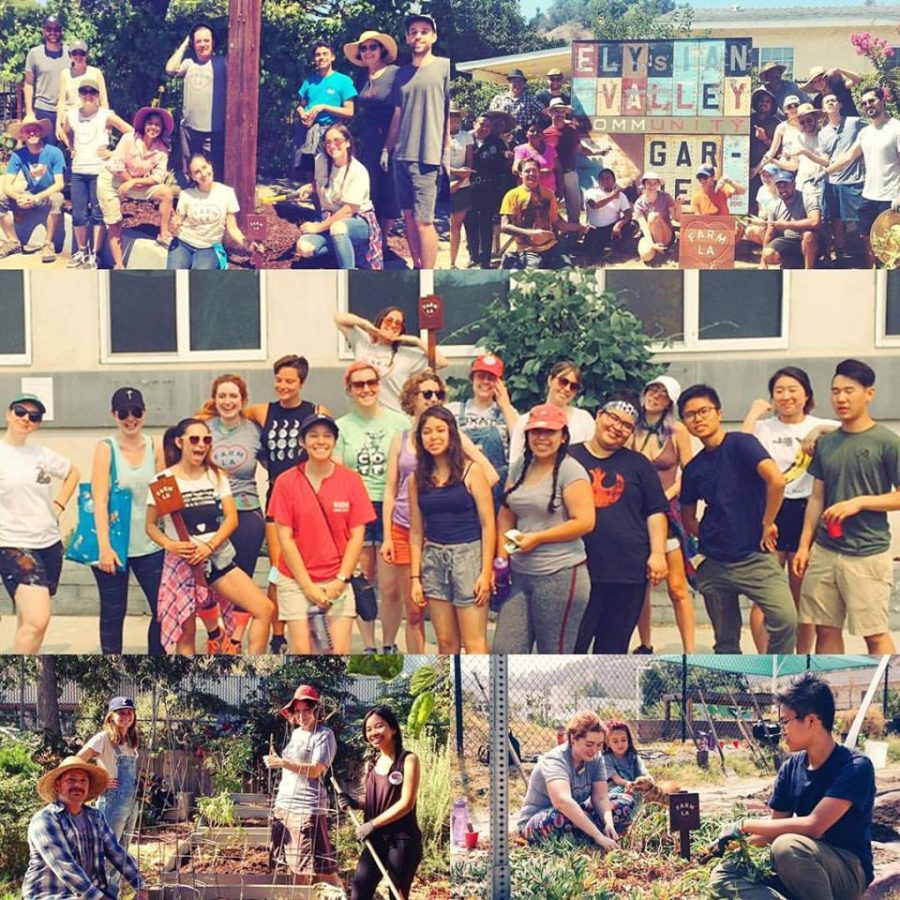 ©FARMLA 2021
2634 Rich Street
Los Angeles, CA 90039
help@farmla.org
Tax ID#47-3050128